Honda CBR 750 SUPERAERO
The CBR 750 was the last of the iconic CB series 750cc in line Honda Fours.
The 750cc capacity had long been the most exciting and technologically advanced end of motorcycling... as a young man we all wanted a "750" generally a 750cc HONDA Four ! There were many other very exciting 750's to choose from in that era as well. That capacity really means something to me and I am sure other older riders as well.
The 750cc capacity had its origins in the regulations of international motorcycle racing... it was the maximum engine size allowed .... When that limit was reviewed and discontinued it ceased to have any meaning with manufacturers who just moved up the scale of engine capacities.. and extreme engine outputs..
I actively sought out this CBR 750 because I'm of that generation where a "750" still has very strong resonance and nostalgic links...particularly a Honda, and 750's don't come a lot better than the CBR 750.

The CBR 750 was only available for a short two years from 1987, Japan only, not exported.
The pictures generally tell the story as to the general condition of this bike. This CBR (1988 build) is now 25 years old, and has probably not been used for a long time. Cosmetically the best description is that it presents like a well kept 2 or 3 year old machine. This CBR 750 has obviously been valued and properly looked after by its original owner. This is a very high quality100hp plus machine... Japanese design, engineering and manufacturing at its highest.I have not started it or spent anytime working on this bike... work commitments in recent years have kept me in the field for most of the time and lack of garage room makes me reluctant to start another project.
As mentioned general condition is very good, however there are some scratches on the lower part of the right side of the fairing, and at the very forward of the front mudguard.... Some of these scratches were definitely added by transport in Japan. It was trucked from Tokyo about 300kms, where it was put into storage prior to shipment.. This machine was a very expensive purchase for me in Japan.
I will start it and run it and record a video for any serious enquirers...
What a Beautiful Bike this is !

There is no indication that it was ever parked out in the weather or sun..all paint and plastics are in excellent unfaded condition.
The screen has yellowed and crazed a bit because of age but would probably respond to cleaning with the right products.
All chrome and polished alloy work is totally unblemished. Not the slightest pitting or rust on fork legs
The factory exhaust has its original finish and appears to be totally solid. Keys are with it as are its export papers.
The years of non use have seen both tyres (unworn and new looking) harden and crack..they will both need replacing.
The rear mirror glass is missing on the right side.. I may have it somewhere.....................................
The inside of the tank has rust, and there is a good chance it will need re sealing... but it may be ok,, but certainly needs a clean up....
I have used electrolysis ( youtube has some tutorials ) on another Honda tank and it cleaned up well
Eligible for Historic Registration in those States with a rolling 25 year limit...
For more details please use this link to contact me email David

Link here for further information on the CBR 750 from the excellent CBR 750 web site....... hurricane.isalive.nl

Technical Specifications

Released in 1987, the CBR75O Hurricane closely resembles the 1000cc model that came out in the same year, the major differences being the 750 model had the forks, brakes and callipers from the VFR75O. In 1988, the bike was remodelled to produce a visual clone of its' one-litre bigger brother - perhaps this is what sounded the death-knell for the bike ('more cubes is best')?
D
Which is a shame, as this is a very easy bike to ride. No surprises, smooth for touring or city commuting. I used it every day and it was just totally reliable and predictable and went where you pointed her. Could be a tad soft in the rear two up, but otherwise a comfy ride.

Pegs and controls are 'all in the right places and fall easily to hand' (to paraphrase a well-known magazine of years gone by) and the riding position was relaxed, meaning long stints on the road weren't a problem.

The CBR has a 21 litre tank with 3 litres in reserve. You could get up to 300kms riding conservatively before having to switch or refuel. Loaded up with heavy gear or pillion or pushing the bike hard would see that drop to around 250 - 270 depending how hard I worked the bike.

The gauges are easy to read and a fuel gauge on a bike of this age is a bonus.

The CBR750 is not an outright speedball , but fast enough on the pickup to pass cars in the blink of an eye and keep them back where they belong, even loaded up with gear.

The gearbox is reasonably smooth apart from the usual clunk into First gear, first thing on a cold morning. That said, it pays to be deliberate going up into Second as it is all too easy to find neutral instead. Brakes are great and require little effort to haul the 200kg (dry) weight up.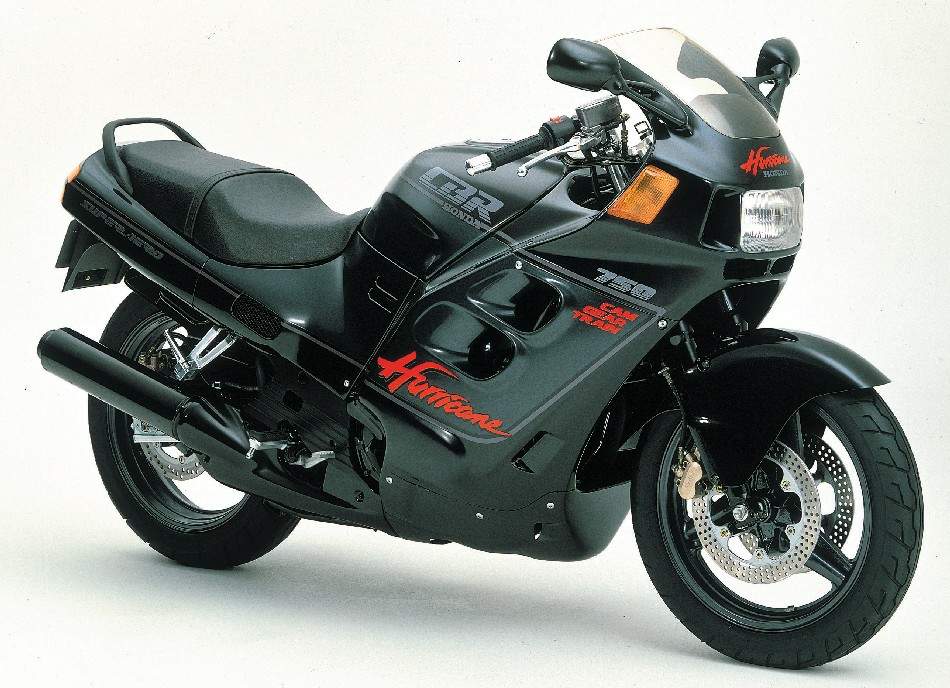 | | |
| --- | --- |
| Make Model | Honda CBR 750F Hurricane (Super Aero) |
| Year | 1987 |
| Engine | Liquid cooled, four stroke, transverse four cylinder, DOHC, 4 valve per cylinder. |
| Capacity | 748 |
| Bore x Stroke | 70 x 48.6 mm |
| Compression Ratio | 10.5::1 |
| Induction | |
| Ignition / Starting | Electronic / electric |
| Max Power | 105 hp 76.5 kW @ 10500 rpm (rear tyre 77hp @ 9500rpm) |
| Max Torque | 7.0 kg-m @ 6500 rpm |
| Transmission / Drive | 6 Speed / chain |
| Front Suspension | Hydraulic telescopic forks |
| Rear Suspension | |
| Front Brakes | |
| Rear Brakes | |
| Front Tyre | 110/80-17 |
| Rear Tyre | 140/70-18 |
| Dry-Weight / Wet-Weight | 199 kg / 224 kg |
| Fuel Capacity | 21 Litres |